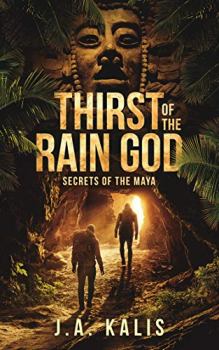 Lost civilization. Ancient secrets.
A fast-paced adventure where danger lurks around every corner.
While exploring ancient ruins nestled deep in the lush Guatemalan jungle, a team of international archaeologists makes a stunning discovery. They find a sprawling network of tunnels and caves filled with man-made structures, intricately carved stone statues, inscriptions and murals that hint at the mythical Mayan underworld, Xibalba.
Eager to learn more about the shadowy place, they descend further underground and stumble upon hidden passageways that seem to stretch forever, treasure-laden tombs and secluded chambers which show signs of ritual usage. But it soon becomes apparent that they are not alone in the vast subterranean maze. Someone else is there. Someone who is ready to kill to protect the sinister secrets that lay hidden there for centuries.
Fans of gripping action adventure thrillers laced with archaeological mystery will love Thirst Of The Rain God. Also recommended for anyone interested in the ancient Maya.