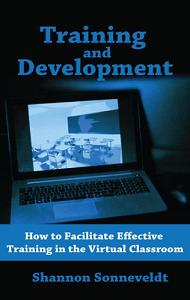 In today's global work environment where an increasing number of people work remotely or from home, the need for live virtual  (synchronous) training solutions is growing. Effective facilitation of virtual training sessions is critical to the success of the training resulting in improved skills and performance. This handbook provides easy to read, bulleted lists and checklists of tips and best practices for effective facilitation in the live virtual classroom. 
You will learn  
- The role of the online facilitator, including challenges and lessons learned. 
- Tips and best practices for increasing participation in the live virtual classroom. 
- Online facilitation tips, best practices and checklists. 
This book is full of practical tips, best practice and guidance on how to effectively facilitate live virtual training events based on the author's research and practical experience designing, facilitating and coaching/mentoring learning professionals in design and facilitation of live online learning. 
The book is aimed at online facilitators, trainers and everyone who will be training or facilitating live online/virtual learning events but is also applicable to managers and others who wish to explore the live online learning environment. 
Get started facilitating effective live virtual training now!