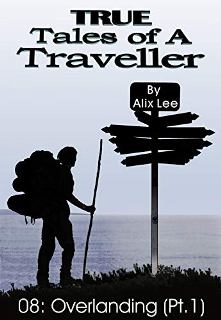 At over 46,000 words, Overlanding (Part 1) is the longest story of the series so far, for one of the shortest periods of actual travel. There are a number of good reasons for this.
When I signed my name into a logbook of foreign nationals at Pakistan's sole land border crossing with Iran, and noticed that the entries for the entire previous day numbered just two, I knew without a shadow of a doubt that I was on a unique, unrepeatable, once-in-a-lifetime travel experience. For a huge country like Iran to have so few foreign visitors seemed incredible to me, even though I knew I was visiting at a dangerous time, due to the ongoing war with Iraq.
Within a very short period of time, I would be thrown into the midst of a world I had previously only seen on television news reports. I would meet Afghan mujahideen fighters, spend the night in police cell, fear for my safety on a number of occasions, and even come to meet dissidents in Tehran who were committed to overthrowing the Khomeini regime. And the worst thing about it all was that due to a disturbing experience in Pakistan prior to arrival in Iran, I was completely unprepared for Iran and would have had a difficult time on account of that even had I arrived at a time of peace and prosperity. Nevertheless, by the time I reached the Turkish border at the other end of the country, I was determined to visit the country again, and soon!
Of all my travels in the 1980s, in terms of time spent, undoubtedly no journey made such a deep and lasting impression on me as this overland trip from Karachi to Rotterdam. Not only did it unceremoniously blow away many of my own preconceived notions of life in Pakistan and Iran, it was also a harsh lesson for me as a traveller in the virtues of being prepared for any journey into terra incognita. Additionally, the first part of the journey, from Karachi to the Turkish border with Iran, was relatively dangerous, not due to involving difficult terrain, but rather to man-made hazards. But overall, the journey turned out to be something I originally had never suspected for a moment it would be: an intensive course in the follies of racial prejudice and ethnic chauvinism.
I believe that racial prejudice and ethnic chauvinism are weaknesses inherent in human nature. We all suffer from them to some extent at some time or another, usually both as perpetrators and as victims, however much we may like to think otherwise. All we can really do is try to recognise these tendencies for what they are and keep them in check. I was both a victim and a perpetrator of racial prejudice and ethnic chauvinism on this trip. To learn how exactly, please read on...
Like all the other stories in the series, this story provides not only an entertaining read, but also information on all the places visited, some relevant only to the era in which the story is set, but most still relevant at the time of this book's publication.