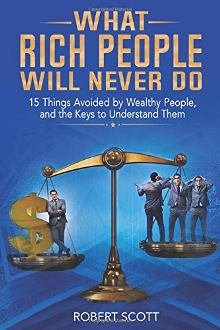 You are able to immerse into the psychology of wealthy people. You need to copy their behavior in order to become wealthy like them. This book contains 15 'red flags' which are the things strictly avoided by really rich and successful people (that's what sets the rich and poor people apart).
In addition to the information about things to avoid, you will learn about special wealth keys (things, which have to be done in each specific situation).
In addition to the 'red flags' (things to avoid), one will have access to unique wealth keys (3-5 keys in average) which have to be used in order to reach success. This is a logical development. Keeping in mind that we analyze things to avoid, we need to find something to use instead of such things.
I tried to add clear and illustrative examples from the real lives of my friends and the most famous millionaires from all over the world. Such examples will allow understanding things better because the practice is the standard of truth.