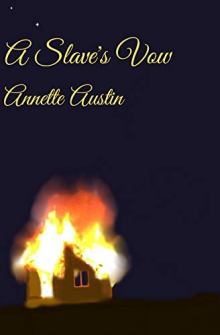 The third book in The James Saga, A Slave's Vow is a compelling novel which deals with love and race in the fictional town of Ark Angel in South Carolina during the 1860's.
After her lover, Lawrence James, throws her out of his home, Jasmine Thomas must pick up the pieces of her life once again. Hurt and humiliated, she has the additional issue of being pregnant, facing the daunting prospect of bringing up the child alone.
Residing in a cottage owned by Lawrence in Beverly, Charleston, Jasmine is lonely until she meets a mysterious stranger, Henry Dean. From the outside, Henry seems like the perfect gentleman, but does he have an ulterior motive?
Realising his mistake, Lawrence wants Jasmine to come back to him. Initially, she is reluctant to do so, but her heart cannot let go of him. However, a huge crisis engulfs the plantation, putting not only Lawrence's home but other people's lives at risk.
When Lawrence lets her down and with Henry's control over Jasmine tightening, she is left with a choice – does she give Lawrence one more chance or does she finally let go of him for good?