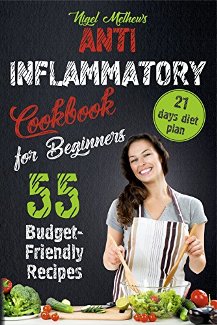 The Life-Changing Anti-Inflammatory Diet and Meal Plan To Restore Your Health So much in life is beyond our control.
Anti-Inflammation Diet For Beginners  takes a preventative dietary approach to fighting inflammation by stimulating natural healing with anti-inflammatory foods and supplements. It reveals the causes of inflammation and provides a how-to prescription for eliminating it through diet changes, stress reduction, and healthy weight loss.
●    Over 50delicious, easy-prep recipes that feature affordable ingredients, minimal prep time, and hundreds of useful tips
●    Flexible anti inflammatory diet plan to fit your needs and tastes.
●    Helpful Shopping List and nutritional information will help you make smart food choices and stick to your anti inflammatory diet
The Anti-Inflammatory Diet in 21 days is an indispensable anti-inflammatory diet cookbook and meal plan with one goal: to transition you to a healthier lifestyle that supports your immune system. Discover how an autoimmune diet can be easy, convenient and filled with variety and flavor.