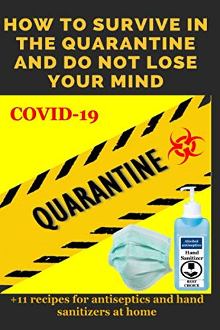 How to survive during quarantine? How to survive a pandemic shock and not go crazy in quarantine? What to do to not get depressed at all? Where is best located during quarantine? How to eat during quarantine? How not to go crazy with the whole family in isolation. Quarantined children, what to do with them? How to live so that "virusophobia" does not develop? My book will help you painlessly survive this period of your life without any consequences and again enter the society of a mentally healthy person.Here are the most effective techniques.
Addition
+11 recipes for antiseptics and hand sanitizers at home
+List of essential goods and foodstuffs of 2020 during quarantine
Thanks to this book, millions of people will know exactly what to do in such a situation and how to survive and not go crazy.
Do not miss the opportunity to protect yourself and loved ones !!!