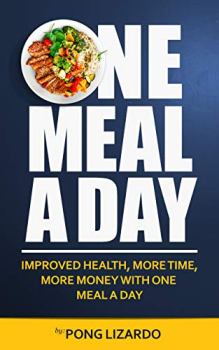 You want to be healthy but you have a full time job. You work on average 10 hours per day, sleep 8 hours then commute for an hour. That's already 19 hours! And you still have to eat and shit. Gym time is not exactly how you want to spend the remaining hours of your precious time. And who the hell would have energy to exercise after a 10-hour grind and an awful commute!
Your monthly paycheck flies off the window as you sing to the tune of Idina Menzel's Let it Go. Paying an arm and a leg and a firstborn child for a pound of Quinoa and the latest Keto-Vegan crap is not on top of your budget.
There is a way to be healthy. It's simple, cheap, and doesn't require hours in the gym. It's not even a diet! You can eat whatever you want, however much you want. All you have to do is eat one meal a day.
Whether your goal is to lose weight or simply to be healthy, one meal a day (OMAD) will help you achieve your goal and more!