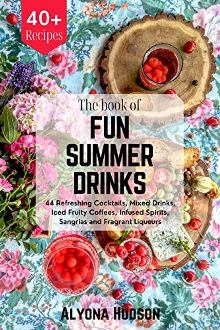 This summer drinks book is a fun take on an at-home bartending. And one thing a summer drinks recipe should always be is fun, above all else. Honestly, there isn't a need to spend tons of cash on fully stocking your home bar or time on learning and perfecting dozens of complicated cocktails to impress friends and family.
First of all, time is precious and money is hard to earn, so let's try to save both of them for better things in life. Secondly, being a bartender is never an easy job; it takes experience, knowledge, training and quite a bit of talent to serve up an array of refreshing alcoholic drinks to a crowd of people with very different tastes. So, if we find ourselves on a beautiful summer night in the mood for a trendy complex cocktail or a refreshing drink, we need to put on a fabulous outfit and take an Uber to the nearest bar. Thirdly, let's remember that the COVID pandemic seriously hit bars and restaurants, and they suffered one of the hardest blows – hence, we all should support the industry: fill the bars and ask for that fabulous summer drink with alcohol and ice the minute we have the green light to do so.
Now, let's not digress: this fun summer drinks eBook is all about laidback fun time in the comfort of our own houses. There are no complicated recipes, hard to read explanations, or 10-ingredient drinks. Home should be a place for easy, fun drinks that you can effortlessly make. Plus – and this is a promise –entertaining at home with these homemade liqueurs, infused wines, sangrias and exiting 2 to 5 ingredients cocktails and mixed drinks will quickly become your favorite hobby.
Plus, these recipes will make you think of your own summer drink ideas because when you'll take a sip of your first home-made fragrant gorgeous sour cherry liqueur, then you'll start infusing alcohol with every in-season berry or fruit you'll come across. Not to mention, home-liqueur based cocktails and mixed drinks are exceptionally fabulous. And we have 20+ easiest summer cocktails possible! And then there are infused wines, sangrias, fruity coffees… To sum up: when you find yourself roaming your local farmers' marketslooking for ripe, juicy fruit for your home-made liqueurs and infused vodkas, or when a few bushes of lavender, sage or mint magically appear in your garden or somewhere in the kitchen, you'll know you've mastered home mixology and it's time to start writing your own summer drinks book!
Summer is ideal for cold coffees, light alcoholic beverages, pretty drinks, and memorable new flavors. The book is beautifully photographed with all of the photos made by the author at home, and most of the fruit, berries, flowers, and herbs are home-grown. There are 40+ easy recipes for a very fun home bartending, including:
 
• Limoncello
• Vodka-based plum liqueur
• Pear liqueur
•Sour cherry liqueur
•44 liqueur
•Sage-infused vodka
• Honey melon-infused dark rum
• Peach-infused vodka
•Lavender simple syrup  
• Honey, lemon and ginger raw syrup
• White wine peach and pear sangria
• Vin de Citron with champagne
• Apple and mandarin sangria
•Thyme-infused wine with prosecco
• Orange peel water and 44 liqueur cold coffee
• Cardamom and rose water coffee
• Strawberry ginger lemonade cocktail
•Sage-infused Bloody Mary     
• Lavender lime and mint vodka cocktail  
• Blackcurrant basil mojito
• Rosé, gin and tonic, and more
Please enjoy this fun summer drinks book and have a gorgeous summer!