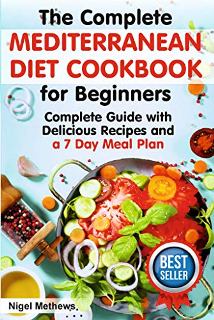 Your journey towards a healthier life and slimmer waistline begins here and now!
Do you want to live a healthier lifestyle for years to come?
Are you tired of filling your body with chemicals every time you eat processed foods?
Is it time to lose weight, get healthy, and give your family the best possible nutrition?
Benefit from the Mediterranean diet!
Mediterranean diet represents a healthy lifestyle choice and can reduce the chance of developing conditions such as:
•    heart disease
•    type 2 diabetes
•    high blood pressure
•    obesity
•    some cancers
•    fibromyalgia
•    Parkinson's disease
•    Alzheimer's disease...
The Mediterranean diet—ranked #2 in Best Diets overall, it is high in vegetables, fruits, olive oil, and whole grains, and moderate in protein and animal fats—has proven to be beneficial in reducing the risk for diabetes, heart disease, and stroke. Now, a new study shows it may also be good for the brain. The Mediterranean diet isn't just a fad or a quick fix—it's a healthy lifestyle choice that's here to stay!
For many of us, the idea of dieting conveys unpleasant notions of flavorless piles of lettuce and overpriced freezer meals. But the secret to losing weight isn't starving yourself or eating processed "diet food." With The Complete Mediterranean Diet Cookbook for Beginners you'll begin dropping pounds immediately—and learn how to keep them off for good—by following this healthy diet packed with tasty, wholesome meals that you'll love.
Mediterranean Diet  is useful for people wishing to lose weight as it is rich in fruit and vegetables and lower in sugars and saturated fats than a typical Western diet.
It can reduce the risk of a premature death and increase the chance of a healthy retirement, free from long-term medication.
Here Is A Preview Of Healthy Recipes You'll Learn:
•    Mediterranean Layered Salad
•    Mediterranean Cauliflower Rice
•    Mediterranean White Beans with Garlic and Basil
•    Mediterranean Frittata
•    Mediterranean Inspired Brownies