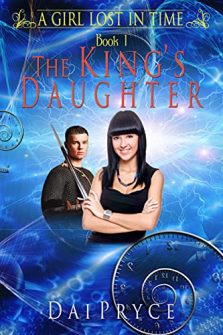 Wales 1294 . . . A hated English king, a country in violent rebellion against him, and a sixteen-year old girl from Virginia Beach badly out of her depth.
Until recently, Megan Lynch was a high-school sophomore. At present, she is watching a man dangling from a rope as a crowd of thirteenth century Welsh rebels cheer on.
"Go stay with your grandmother in Wales," her mother told her. "It'll keep you out of trouble."
In her mom's defense, she could never have predicted the events that unfolded in the ruins of Flint Castle that afternoon. She certainly wouldn't have known about the strange Welshman or the pendant he gave Megan. Even then, if it hadn't been for the encounter with a local bully, Megan might still be wandering around the ruins of a thirteenth century castle, instead of a fully functioning one.
Her striking similarity to the king's daughter is initially her saving grace, but her inability to speak Norman French arouses suspicions, and she knows her luck cannot last. Thankfully, help is at hand in the shape of Hugh, a handsome young knight's squire with a deadly secret.
 
Medieval North Wales is a dangerous place though; it is a world of chainmail, of blood-soaked swords, and scorched towns. Their friendship grows as they journey deeper into the country; and whisper it quietly, but could this be love?
With a huge dollop of luck, perhaps Megan can make it back to her everyday world of Snapchat, Instagram, and Same-Day Delivery; then again, will she even want to?