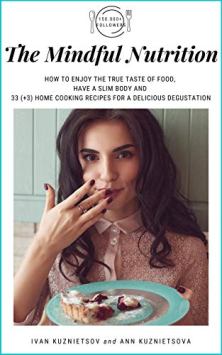 Discover how to create quality food without spending hours in the kitchen, eat with pleasure, and achieve optimum fitness!
Do you feel guilty and anxious about eating certain foods? Or find yourself unable to resist old habits to eat during stress even if you're not hungry? Have you tried every diet going only to see the weight creep back on again? Now is the time to stop what you're doing and try a different, natural, and brilliantly effective approach…
It is straightforward and, at the same time, is the most crucial goal—to focus on how to benefit people. Formally this book, The Mindful Nutrition, isn't just a cookbook. This book is designed to show you how to find your ideal weight in a comfortable, manageable, and mindful way while enjoying delicious food. It allows you to escape the endless diet trap by following simple yet potentially life-changing techniques to develop new effective habits and a much-improved relationship with food and your body.
Ivan Kuznietsov goal is to get as many people taking just a few minutes out of their day to practice powerful mindfulness exercises. Mindful nutrition is a crucial aspect of mindfulness, and as you start to practice it, you will notice profound results, both in terms of your shape but also your overall health and well-being. Imagine yourself achieve all this by following simple but powerful exercises from this book:
* Exercise on mindful eating;
* Exercise on mindful degustation;
* Exercise on mindful nutrition for optimal body weight.
At the same time, Ann Kuznietsova knows how important it is to eat well, whether you're training for a sports competition or just trying to live healthier. And just because it's a healthy food, doesn't mean you have to compromise on taste and flavor. As a culinary blogger, Ann shares her best recipes for people who want to eat well at home. Her rules are simple and proven in this book:
1. Home cooking has to be easy.
2. Home cooking got to be fast.
3. Home cooking got to be delicious.
Ivan Kuznietsov and Ann Kuznietsova are going to prove that however busy you are, it's still possible to cook stunning food. You will get a collection of new delicious recipes. And the products you need for cooking are available in almost every grocery store. Book divided into chapters highlighting different health-boosting benefits of recipes:
* Bread;
* Snacks;
* Main dishes;
* Desserts;
* Bonus (but it will be a surprise).
The exclusive benefits of this book: After reading it, you will know what to cook for Monday morning breakfasts through to Sunday night dinners. Also, the book contains: Stories from the author's life, quotes of famous people, kitchen hacks, interesting facts about food, useful tips, and all about the pleasure of cooking and sharing the very best home-cooked meals with family and friends.
Still hesitant? Click on the "Buy Now" button, and after reading this book, your doubts will be dispelled, and you will get pleasure and benefit!