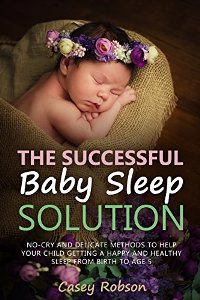 This book contains practical suggestions and solutions on implementing sleep routines from the newborn stage to 5 years of age.

Discover techniques on how to convert a regular bedroom to a conducive sleep area for your child. Know what essential materials mothers need to ensure good sleep for their babies. Find out the importance of sleep for the child's healthy development and know how much sleep a newborn, an infant, or a toddler needs. Learn the different difficulties in establishing a good sleep cycle and the strategies in implementing age appropriate sleep plans. Find out the different cultural views on how to put a baby to sleep and discern which point of view applies to your principles as a mother.Finally, utilize the different tried and tested sleep plans as suggested and experienced by the author herself.

All the contents of this book are based on a mother's experience and is intended to be shared to other mothers who are out of their wits with regard to establishing a sleep plan.

Hopefully, with the help of this book, you and your baby will enjoy uninterrupted sleep every night. It is not guaranteed to work over night, but with the right amount of effort and consistency you will surely succeed.