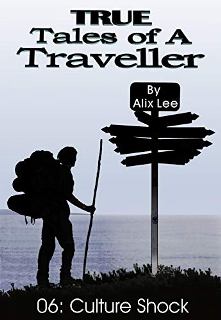 The story begins in late 1984 and is the sixth tale in the series overall. Culture Shock finds the young traveller (myself) taken from the relative orderliness of a life in London where he had been attempting, with mixed results, to pursue a career in the travel industry (related in the fifth story of the series, A Career in Travel), and throws him into the furious assault on the senses that constituted life in the Indian capital, Delhi, at that time.
His attempt to integrate his love for travel into a regular, settled lifestyle in London had already begun to unravel even before he left the UK. After only a couple of weeks in India, his career as a travel industry employee has slipped into the past, replaced by an even more vivid and overpowering version of his pre-existing career as a full-time traveller.
Culture Shock describes a travel experience across a large sweep of northern India, from Varanasi in the east to the Pakistan border in the west, as well as a voluntary work experience in Rajasthan.
The story illustrates how first impressions of both fellow travellers and locals can be way off the mark. Initial feelings of disfavour gradually give way to an appreciation that the traveller is in the midst of a unique travel experience with irreplaceable travel companions.
Another message of the story, applicable to travel in any era, is that the accumulated wisdom of fellow travellers is usually something worth taking seriously, and that pride in one 'credentials' as an experienced 'in the know' traveller is usually something to avoid.
In the late 1980s and in the 1990s, I very much regretted not being able to tell this story and the other two from Volume Two of the series (Just a Businessman and Overlanding) to a wider circle of people than just family, friends, and fellow travellers. At that time, with no background in writing, and without connections within the book publishing industry, I knew the chances of my travel stories being published were very remote. Self-publishing was prohibitively expensive, and from what I had heard almost always a complete waste of time, money, and effort.
In 2018, having long given up any hope of ever seeing these stories published, I discovered that it was possible to publish e-books, and even printed books, on Amazon without any initial expenditure. I immediately set to work on recounting the adventures and misadventures that constitute the True Tales of a Traveller series!
I hope you enjoy this story, and if you do, please do also read the subsequent stories mentioned above.