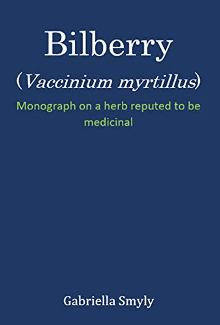 A thoroughly referenced monograph written by a Herbal Medicine BSc (Hons) graduate. Anyone interested in familiarizing themselves with the information on bilberry in the literature, including in clinical trial papers, may find this monograph useful.
The monograph has an in vitro subsection entitled "S-opsin aggregation, ATF4 protein expression, polyubiquitinated protein expression, DTT-induced cell death, and mRNA expression of BiP/GRP78 and GRP94, in murine 661W retinal photoreceptor cells exposed to blue LED light" and an animal study subsection entitled "Total oxidant status, total antioxidant status, structural features of renal tissue, and numerical density of caspase-3 positive cells in the proximal and distal tubular epithelia, in rats administered a single dose of cisplatin".
In addition, the monograph has three clinical trial subsections, the titles of which are as follows.
1) "Levels of IL-1β, IL-6 and VEGF in gingival crevicular fluid samples from, and bleeding on probing in, individuals with gingivitis"
2) "Incremental plasma glucose and plasma insulin concentrations and incremental area under the curve following intake of a polysaccharide drink in overweight/obese male volunteers with type 2 diabetes controlled by diet and lifestyle only or impaired glucose tolerance"
3) "Clinical trial of a combination including bilberry – Symptoms of asthenopia"
Most of these subsections contain background information that clarifies and/or brings to light the wider context of specific details in the respective study papers.
Other subheadings include Botanical description, Traditional uses, Constituents, Actions, Indications, and Safety, among others.