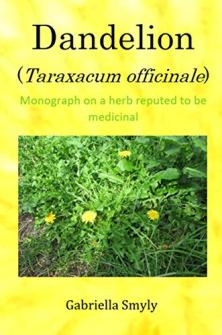 A thoroughly referenced monograph written by a Herbal Medicine BSc (Hons) graduate. Anyone interested in familiarizing themselves with the information on dandelion in the literature, including in in vitro study papers, may find this monograph useful.
The monograph has two in vitro subsections, one of which is entitled "Viability of and typical features of apoptosis in A375 human melanoma cells, and membrane potential of and level of reactive oxygen species produced in the mitochondria of these cells" and has some background information.
The other in vitro subsection, which is entitled "Viability of, level of production of reactive oxygen species in, HO-1 expression in, and levels of Nrf2 in nuclear and cytosolic fractions of, glutamate-stimulated HT22 cells" has extensive background information.
The monograph also has an Animal Study subsection that is entitled "Maximum swimming capacity and blood triglyceride, lactate and glucose concentrations in mice" and has some background information.
In addition, the monograph has a Clinical Trial subsection entitled "Urinary frequency and excretion ratio".
Other subheadings include Botanical description, Traditional uses, Constituents, Actions, Medicinal Uses, and Safety, among others.