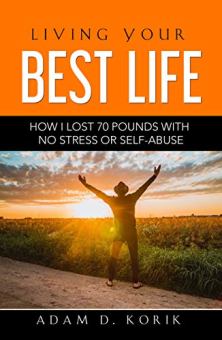 What if I told you that diet and exercise are optional, and certainly not the only conditions for losing weight? Believe it or not, but your way of thinking has a big role in your weight loss journey. The thoughts you process, the things you believe in, and what you tell yourself every day influence your life output. But first, acknowledging that there's a problem and realizing the cause is the first major step. Afterwards, you commit to taking actions that will change the situation.
In this book, the author shares his personal experience with his weight loss journey. He shows how certain life principles can totally transform your life in ways you could never have imagined. This book is a labor of love containing real-life knowledge on weight loss without dieting and stress. The author has compiled detailed research to walk you through every step. He seeks to inspire anyone struggling with weight loss and sees it as a far-fetched dream. His experiences and research is proof that everything is attainable as long as one is willing to put in the effort.
What to expect?
Author's life before weight loss
How the transformation began
More about learned helplessness syndrome
How to get through the weight loss journey
Measures to undertake
The influence of thought into the success of your weight loss
Food to take and avoid
The author offers great inspiration to anyone struggling with weight loss. He shows that everything is achievable as long as you set your mind to it. This is an interesting read that will have you turning pages.
Thought-provoking and comprehensive book that will make you rethink your weight loss journey. It introduces you to a different way of thinking by showing how your thoughts will influence your weight loss journey's success.