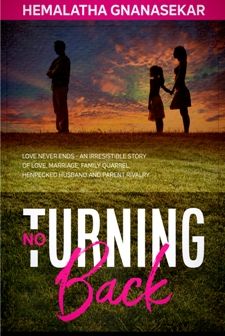 Love Never Disappears Traceless. In the Book about Family Struggles, It Finds Its Way to Be the Guide on the Way to the Light.
The kind, loving husband Swaminathan is a victim of his wife's domineering abuse. When their daughter is born, Swaminathan extends his patience to fatherhood and becomes an exemplary parent. 
The wife, Shanthi, however, abuses the daughter and hurts her every time she is upset with Swaminathan. So Swaminathan leaves his family, the daughter, and the wife. When he reaches Kanchipuram, a town in India famous for its abundance of sacred places and temples, he meets a priest who will change his life, turning him to religion and inspiring him to become a priest himself. 
Six years later, a family friend, Ramanathan, whom Swaminathan accidentally bumped into, decides to reunite Swaminathan's family.  
No Turning Back is a captivating story on marriage, family, love, and life. In this riveting tale, delight and pain can't exist without each other, making the family realize that they will always be there to guide each other through the Dark.  
The story is a ground-breaking outlook on gender and taboo family issues rarely talked about even in contemporary times.
Dive into the irresistible, heartfelt story of the family who found love again…