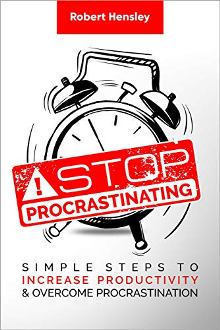 Do you often struggle to start new projects? Do you always postpone actions until the deadline comes? Do you feel stressed and overwhelmed by unfinished to-do lists, missed deadlines, and abandoned projects? Do you want to find a way to boost your productivity and peak your performance?
This practical book action-oriented will bring into limelight the real reasons behind procrastination and propose simple proven strategies and tips on how to beat procrastination.
Stop Procrastinating: Simple Steps to Increase Productivity and Overcome Procrastination is an insightful how-to book which will teach you to stop procrastinating, be more productive, avoid feeling overwhelmed, take control of your actions, help to enjoy life without constantly feeling guilty or stressed out and achieve your goals.