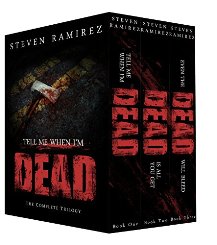 BUY THE COMPLETE TRILOGY AND SAVE!

Tell Me When I'm Dead. When a contagion decimates the town of Tres Marias, recovering alcoholic Dave Pulaski, his wife, Holly, and a band of soldiers and civilians must find a way to survive.

Dead Is All You Get. Driven to discover the truth behind the contagion ravaging the town of Tres Marias—while fighting to protect his wife, Holly—Dave Pulaski is pushed beyond the limits of faith and reason.

Even The Dead Will Bleed. While on a mission to rescue an innocent girl and kill the man who devastated his home, dark forces will deliver Dave Pulaski to the brink of Hell.