Monthly

Newsletter

for Authors & Reading Community

APRIL 2023  .  Issue No. 23
Featured Listings

 

College Life of a Retired Senior

by Yvonne Blackwood

Seven years after she retired from a lengthy career in banking, Yvonne Blackwood surprised her friends and family by returning to school at age sixty-four to pursue an English degree. Her purpose was fueled by four powerful reasons—to add texture to her writing; to ward off dementia; to enhance structure in her life; and to inspire her two young grandsons to continue their education after high school. But as she stepped onto the campus of Canada's third-largest university, Blackwood had no idea of the hurdles she was about to face.

 

LET'S GET A RIDE

by Israelin Shockness

LET'S GET A RIDE: TJ CAT AND THE SUPERHEROES is the second story book in the series, TJ Cat and the Superheroes. In this story, TJ Cat and some of his superhero friends, while on the school bus, observe two new little animals a long distance away from their school. "They'll be late," they thought. At school, TJ Cat and the superheroes discover  the little animals don't have a ride to school. They come up with a plan to help the new little animals get to school. This book shows young children that they are not too small to contribute good ideas.

This book teaches young children to develop kindness, empathy, self-confidence, self-esteem, and self-awareness, in their everyday lives.

 

TJ CAT'S FIRST DAY AT SCHOOL

by Israelin Shockness

TJ CAT'S FIRST DAY AT SCHOOL: HOW TJ CAT AND PUPPY D BECAME FRIENDS is the first book in the series, TJ Cat and the Superheroes. In this first story, TJ Cat is anxious about his first day at school. TJ CAT wondered, will the other little animals like him? What about his teacher? She may not like him at all. But TJ Cat soon finds out school can be fun. He not only makes friends on his first day at school, but his class becomes the superhero class.

This book, with its captivating little superhero animals, holds the attention of young children. It helps them to become independent and lifelong readers, eager to find out about new things. It teaches young children how to be brave, kind, and caring about others.

 

Writing Professional Emails

by Michelle Swann

Writing Professional Emails addresses every aspect of email communication: from the subject line to the signature. It teaches how to tailor emails to meet recipients' needs and fulfill readers' expectations. Following this advice ensures emails will be read, appreciated, and acted upon.

Engaging, practical, and comprehensive, this guide offers straightforward methods that will help you

•    write high-quality, persuasive, focused emails

•    know whether to use a formal or an informal style

•    communicate effectively in cross-cultural contexts

•    use emotional intelligence to build excellent relations

... and more

 
Free Books & Deals *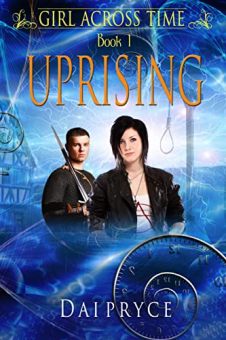 Uprising by Dai Pryce
Free on Kindle Store (Amazon).
Click here for more details.
humanmade.net News
We have availed a special form for updating authors and books pages. Now you can request update / edit / removal for your books and author profile pages easier than before.
Check out Update My Pages for more information.
General Fiction Books
by Idegu Ojonugwa Shadrach
Mystery & Thrillers Books
Why Always Me? - New Release
by Omoruyi Uwuigiaren
Children's Books
by Israelin Shockness
by Israelin Shockness
The Adventures of Nihu - New Release
by Omoruyi Uwuigiaren
Looking for an Excellent Self Publishing Platform?
Join Draft2Digital
and Get FREE Formatting, Publishing, Promotion Tools and Sales Tracking. All in One Place!
* Free Books & Deals were valid at the time of issuing this newsletter, humanmade.net is not responsible for any cancellation / change of these deals after that date.