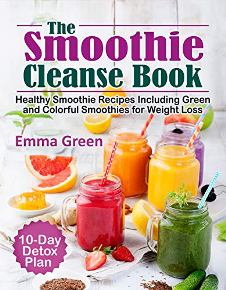 Do you know why smoothies have become more and more popular among hipsters, nutritionists, and people who want to lose weight? It just can't be a coincidence, because this delicious and healthy drink is like a modern elixir of life, and you don't even need a Philosopher's Stone to make it! All you need is a blender, some fresh foods, and some good recipes - so when you stumbled upon this book - it was a hit!
This book will help you to:
• Lose weight during the 10-day smoothie cleanse diet
• Change your eating habits, forget about empty foods
• Replace the toxins in your body with healthy nutrients
• Improve your digestion and microbiota
• Naturally bring your hormones into balance  
• Think and sleep better
• Stay fit and nourished
So it can be like the beginning of a whole new life!
This book offers you more than 70 recipes of different smoothies and snacks intended for a safe and healthy diet, information and instructions on how to cleanse and more! Go on to lose weight after a 10-day diet and see how easy it is or just enjoy your drinks! Anyway, we are sure that you won't be left disappointed!