Monthly

Newsletter

for Authors & Reading Community

MARCH 2023  .  Issue No. 22
Featured Listings

 

Writing Professional Emails

by Michelle Swann

Writing Professional Emails addresses every aspect of email communication: from the subject line to the signature. It teaches how to tailor emails to meet recipients' needs and fulfill readers' expectations. Following this advice ensures emails will be read, appreciated, and acted upon.

Engaging, practical, and comprehensive, this guide offers straightforward methods that will help you

•    write high-quality, persuasive, focused emails

•    know whether to use a formal or an informal style

•    communicate effectively in cross-cultural contexts

•    use emotional intelligence to build excellent relations

... and more

 

Snail's Pace

by Susan Wachtman

Snail's Pace is a quirky space opera about a Victorian woman who becomes governess to a space alien snail. Will her strict sensibilities allow Susannah to tutor a creature who leaves a slimy trail?

Overly self-confident, Susannah accepts an offer to become the governess to a young foreigner on a ship. She does not expect the ship to be in space, or the foreign child to be an alien snail. Nevertheless, she throws herself into the job of bringing Victorian decorum to the natives.

 

Glory Unbound

by Deborah L King

IN THIS SECOND BOOK of the series, Glory Bishop has finally broken free of her mother's oppressive grasp and is offered a new life by a seemingly altruistic Chicago socialite, but there may be more than good intentions at play. Against the advice of trusted friends and family, Glory chooses the protection of Malcom Porter, her adoring, much older, bad-boy-turned-minister fiancé.

Thrust into a gilded world of wealth, society and privilege, Glory struggles to overcome the guilt of loving her new life. The whirlwind of 1980s designer clothing, penthouse views, and first-class travel is a far cry from her former existence.

 

All the Colors of Death

by Antoinette McCormick

New Release - January 2023

A weekend getaway at a lakeside camp takes a sinister turn when a group of ghost-hunting friends uncovers a long-buried secret. As past and present collide, they realize that the evil still haunting the lodge might not let them leave alive!

Welcome to Loon Lake Lodge. Try to survive...

 

Hierarchy of Blood

by Jennifer Haskin

New Release - January 2023

The winner will be crowned Ambassador's Bride. The losers will meet certain death.

When you're living inside a dwarf planet in the cold abyss of space, life is only easy if you're rich. 17-year-old Marishel Vance works as a seamstress - but when she's selected to compete in a brutal contest for the Ambassador's hand in marriage, she's quickly catapulted into a life-threatening struggle.

Marishel hates the idea of fighting for some stuck-up rich guy - no matter how handsome he is.

 

Le Manuel d'information ISO

by Germain Decelles

Dans un contexte de mondialisation des marchés et de qualité totale, il devient impératif d'adopter des règles du jeu communes à tous.

C'est ainsi que sont nées les normes internationales de la série ISO 9000. Tôt ou tard, pour faire partie des ligues majeures du commerce et satisfaire des clients de plus en plus exigeants, une entreprise ou un organisme devra obtenir la certification ISO.

Mais pour plusieurs, ces règles demeurent encore abstraites et ils en discernent mal l'impact et la portée.
Free Books & Deals *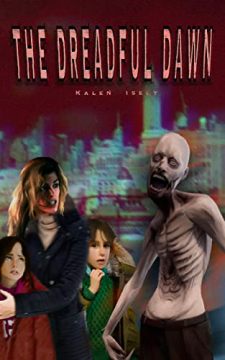 The Dreadful Dawn by Kalen Iselt
Free on Kindle Store (Amazon).
Click here for more details.
humanmade.net News
We have availed a special form for updating authors and books pages. Now you can request update / edit / removal for your books and author profile pages easier than before.
Check out Update My Pages for more information.
Science Fiction Books
by Jason S Manning
Personal Development Books
by Germain Decelles
Looking for an Excellent Self Publishing Platform?
Join Draft2Digital
and Get FREE Formatting, Publishing, Promotion Tools and Sales Tracking. All in One Place!
* Free Books & Deals were valid at the time of issuing this newsletter, humanmade.net is not responsible for any cancellation / change of these deals after that date.